Exposed and underpaid
:
Women still make less than men, including in sectors especially affected by the coronavirus
Women are paid 22.6% less than men with similar education and experience.
Women doctors are paid 12% less than doctors who are men.
Women nurses are paid 8% less than nurses who are men.
Women who wait tables in restaurants are paid 12% less than male wait staff.
Women desk clerks at hotels and resorts are paid 11% less than male desk clerks.
Equal Pay Day arrives in the midst of the coronavirus pandemic, and in occupations radically transformed as we deal with the crisis, women still make less than men.
According to the Bureau of Labor Statistics, one-third of working women (33.4%), compared with just 15.7% of working men, are employed in two industries that have been significantly impacted by COVID-19 in very different ways: the health care and social assistance industry, which is experiencing surging demand, and the leisure and hospitality industry, which is being crushed by closures. Women employed in both industries experience a gender wage gap.
Given this harsh reality, Equal Pay Day on March 31 is a day to call attention to the significant pay gap between men and women in our country. On average in 2019, women were paid 22.6% less than men, after controlling for race and ethnicity, education, age, and geographic division. The gaps for black and Hispanic women relative to white men are larger than the overall gap and the white men–white women gap. Compared with white men, black and Hispanic women are paid 33.7% and 33.0% less, respectively, after controlling for age, education, and geographic division. For white women, the gap is 25.7%.
The timing of these events also coincides with March, Women's History Month, a time to reflect on the often overlooked contributions women have made to the United States. At this historic moment, both the essential contributions as well as the economic vulnerabilities of working women have taken center stage.
More than one-fifth of working women are employed in the health care and social assistance industry, which has experienced a surge in demand as more people seek testing for and treatment of the coronavirus. Hospitals and nursing care facilities account for the largest share of women's employment in the health care industry.
Black women are especially likely to work in hospitals and nursing care facilities: 13.1% of all black women workers work in a hospital or a nursing care facility, compared with 10.9% of Asian American/Pacific Islander (AAPI) women workers, 10% of white women workers, and 6.4% of Latina workers.
This infographic shows a gender wage gap for women employed in two health care industry occupations with widely disparate wage levels but a common focus on providing essential health care services.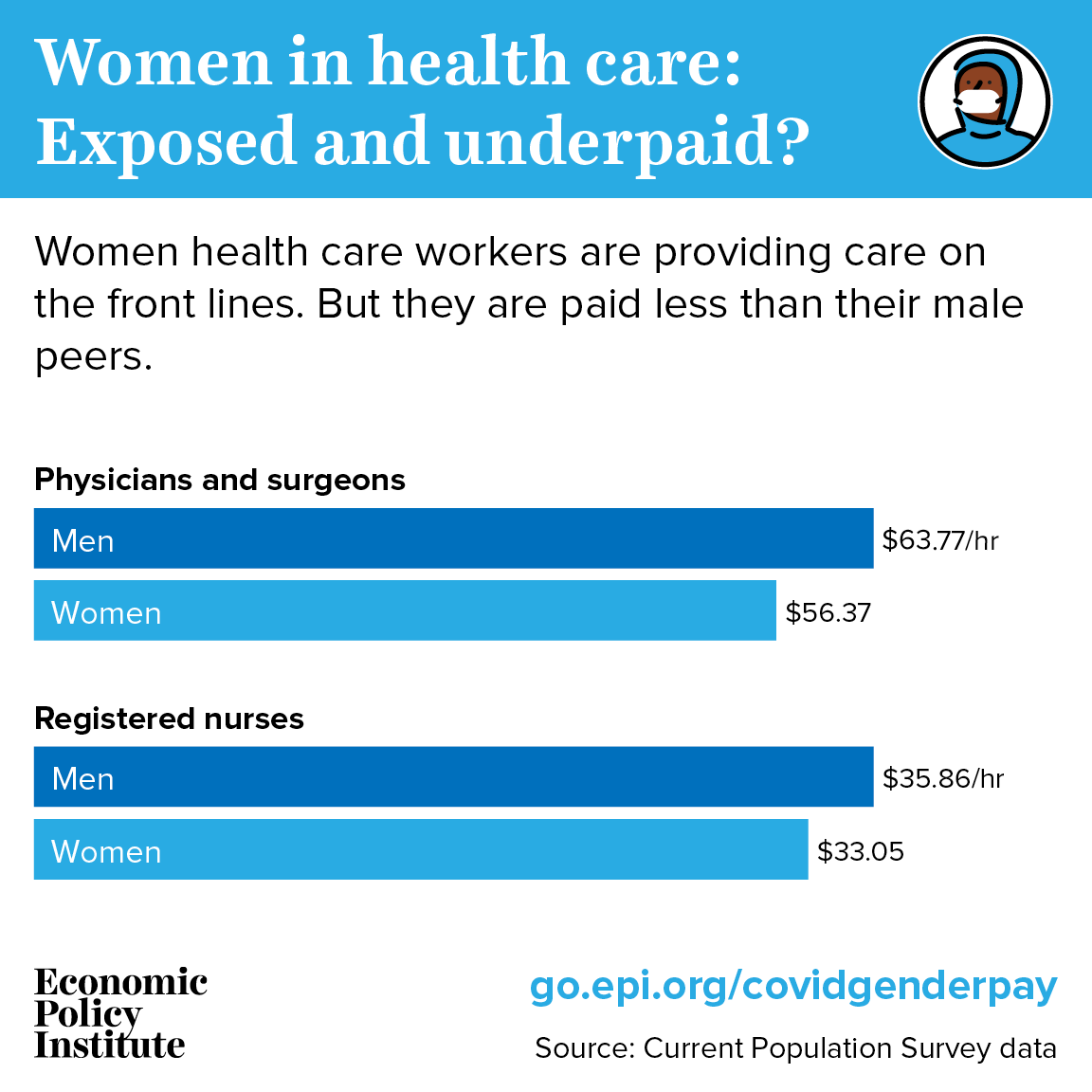 On the other hand, demand for the services provided by the leisure and hospitality industry has plummeted since the profusion of public directives to stay home and avoid travel, making jobs in this sector highly vulnerable. As highlighted in the infographic, a gender wage gap exists in two of the occupations in this industry: wait staff and hotel and resort clerks.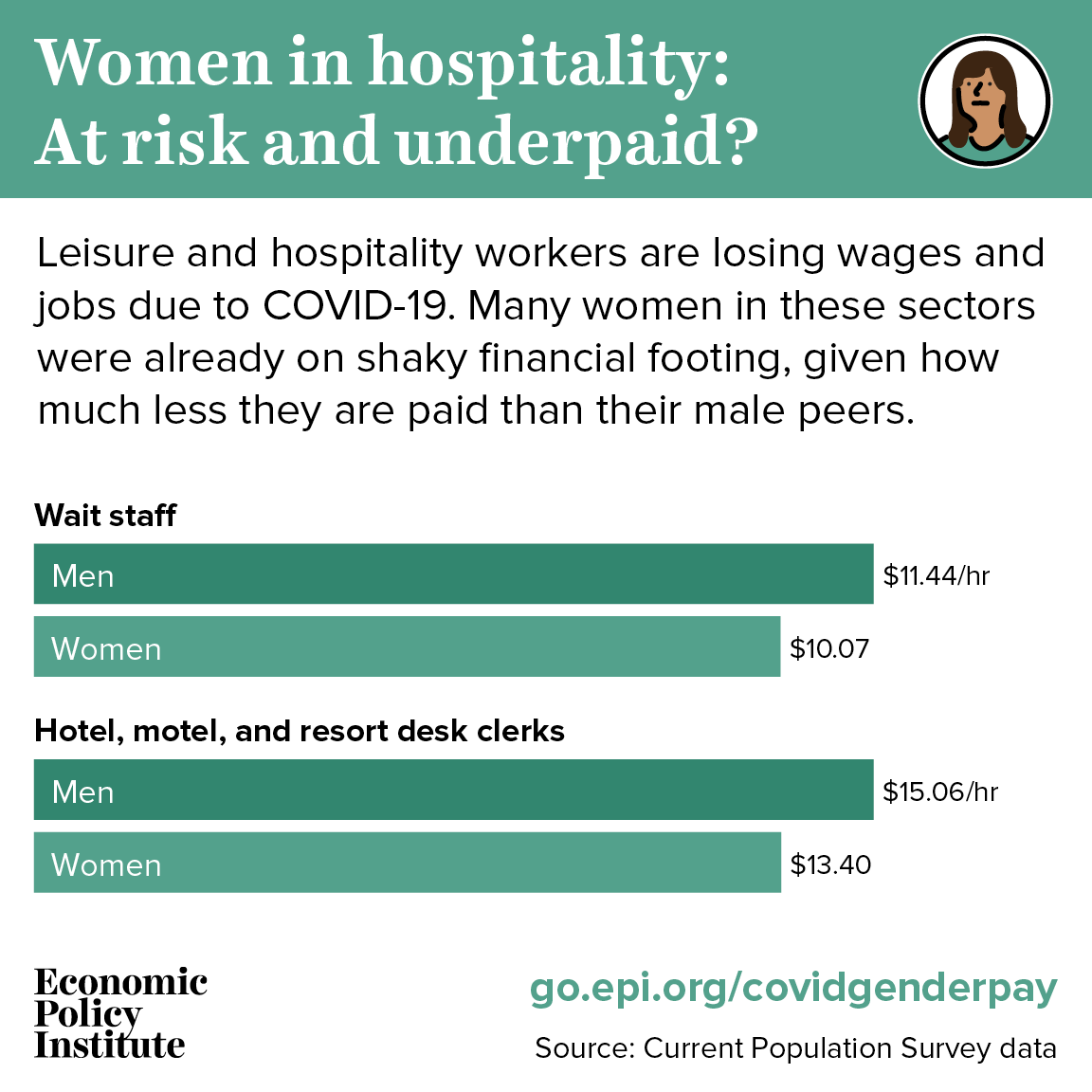 Leisure and hospitality accounts for nearly 12% of women's employment. Accommodation and food service businesses, a subset of this industry, employ 13.0% of Latina workers, 8.8% of AAPI women workers, 8.6% of black women workers, and 7.0% of white women workers. While most men and women employed as restaurant wait staff and hotel workers earn modest hourly wages, the existence of a gender wage gap—and thus the elevated financial insecurity these women workers face—means that women in this industry are especially financially vulnerable in the event that they are out of work or on a severely reduced work schedule for an extended period of time.
It's not so easy to explain away the existence (and persistence) of the overall gender pay gap in the United States. It remains after controlling for relevant factors, across different industries, and at all levels of education. In fact, women with advanced degrees are paid less, on average, than men with bachelor's degrees ($38.64 per hour vs. $39.96 per hour).
The economic impact of COVID-19 has revealed a number of underlying weaknesses in the U.S. economy. While the $2 trillion stimulus bill signed just into law (the Coronavirus Aid, Relief and Economic Security or CARES Act) is an important step in the U.S. response to the coronavirus pandemic, it falls short of fully protecting workers during the coronavirus crisis. Further, long-standing gender and racial inequities in pay, access to paid leave, and even opportunities for telework must be considered as the country continues to develop plans for the response to and recovery from this crisis.
The wage gaps, wages by occupation, and share of women by race and ethnicity in different industries are based on EPI analyses of Current Population Survey Outgoing Rotation Group microdata.
Enjoyed this post?
Sign up for EPI's newsletter so you never miss our research and insights on ways to make the economy work better for everyone.