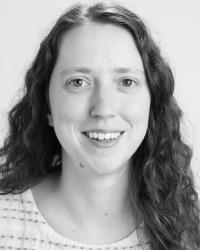 Maggie Corser is a senior research analyst at the Center for Popular Democracy.
Maggie conducts research that advances immigrant justice, Wall Street accountability, and worker's rights campaigns. Prior to CPD, she worked at Amnesty International USA and the Open Society Foundations. Maggie has a background in community-based participatory research and spent several years doing qualitative and quantitative field research on a study addressing health disparities faced by low-income families. Her published research has been cited by numerous publications including the New York Times, the Washington Post, the Wall Street Journal, Bloomberg, NPR, Forbes, Time, USA Today, Reuters, the Atlantic's City Lab, and the Pacific Standard Magazine.
Maggie came to CPD with fifteen years of organizing experience and has worked on low-wage and farmworker rights, gender and racial justice, and labor organizing campaigns. In 2012, Maggie completed Rockwood Leadership Institute's Art of Leadership for Women in Racial Justice and Human Rights. Maggie holds a BA in International Relations from Michigan State University and an MA in International Affairs with a Human Rights concentration from The New School. She also studied at Soochow University in China after receiving the National Critical Language Fellowship through the U.S. State Department and Council for American Overseas Research.
Search publications by Maggie Corser
By Content:
By Area of Research:
By Type: