For decades, our broken immigration system has prioritized temporary workers over immigrants who have equal rights and can eventually become citizens and participate fully in American political life. Daniel Costa, the Director of Immigration Law and Policy Research at the Economic Policy Institute, debated temporary work visa programs on "The Argument," a New York Times podcast, with Michael Clemens from the Center for Global Development. Costa argued that work visa programs need major reforms to improve conditions for migrant workers, and that workers should be allowed to quickly access permanent residence and have a path to citizenship. Costa and Clemens discussed problems and policy issues with work visa programs, needed reforms, and whether they are an adequate solution to the current migration challenges.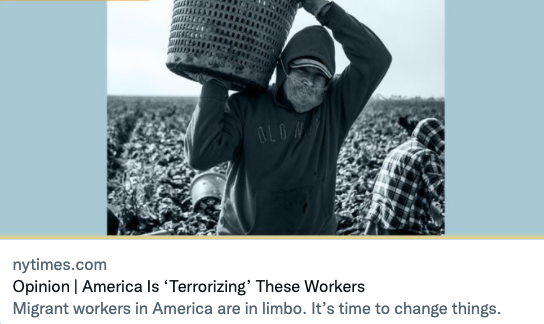 Costa explained that temporary work visa programs "give employers lots of power over workers," and are inconsistent with basic human and labor rights. The solutions for fixing them are out there, but, "it's just a question of political will."
Listen to the podcast here.
For more background on temporary work visa programs, read EPI's report, Temporary work visa programs and the need for reform: A briefing on program frameworks, policy issues and fixes, and the impact of COVID-19.