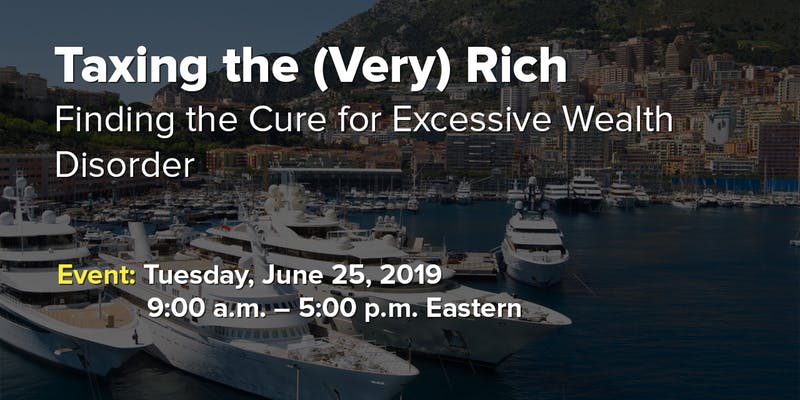 Thank you for registering for Taxing the (Very) Rich: Finding the Cure for Excessive Wealth Disorder. We are pleased to have you join us for the conference, featuring tax policy experts, activists, advocates, organizers, and elected officials making the case for taxing the very rich—and debating how best to do that.
Please use this form to let us know which parts of the day you are planning to attend or if your plans have changed.
Space at the conference is limited, and seating at lunch will only be guaranteed to those who have registered.
AGENDA
Taxing the (Very) Rich: Finding the Cure for Excessive Wealth Disorder
[8:30 a.m.] Registration and coffee
[9:00 a.m.] Welcome remarks
Thea Lee, Economic Policy Institute
Keynote address: Dangers of Excessive Wealth Disorder
Paul Krugman, Graduate Center, City University of New York
Remarks by Alan Davis, WhyNot Initiative
How Excessive Wealth Disorder Hurts Economic Growth
Heather Boushey, Washington Center for Equitable Growth
Capturing Democracy
Nancy MacLean, Duke University
Keynote address
Rep. Jan Schakowsky
Ways We Can Tax the Very Rich
Moderator: Sarah Anderson, IPS
Chye-Ching Huang, Center on Budget and Policy Priorities
Greg Leiserson, Washington Center for Equitable Growth
Lily Batchelder, New York University School of Law
Josh Bivens, Economic Policy Institute
[12:15 p.m.] Lunch
Keynote address
Sen. Chris Van Hollen
[1:45 p.m.] Rich Wrecking Things
Barbara Ehrenreich
How Excessive Wealth Disorder Hurts the Environment
Jacqueline Patterson, NAACP Environmental & Climate Justice
How We Can Move the Agenda to Tax the Very Rich
Moderator: Thea Lee, EPI
Celinda Lake, Lake Research Partners
Erica Payne, Patriotic Millionaires
Frank Clemente, Americans for Tax Fairness
Dorian Warren, Community Change
Corrupting Philanthropy: Fixing the Rules to Curb Billionaire Influence
Ray Madoff, Boston College Law School
The Racial Wealth Divide
Valerie Wilson, EPI
What a Campaign to Tax the Very Rich Look Like in the Field
Moderator: Chuck Collins, Institute for Policy Studies
Stephanie Taylor, Progressive Change Campaign Committee
Shailly Gupta Barnes, Kairos Center and Poor People's Campaign
Sarita Gupta, Jobs with Justice
Connie Razza, Center for Popular Democracy
Closing Remarks
Thea Lee, Economic Policy Institute
Chuck Collins, Institute for Policy Studies
[5:00 p.m.] Cocktails
Remarks from Rep. Pramila Jayapal